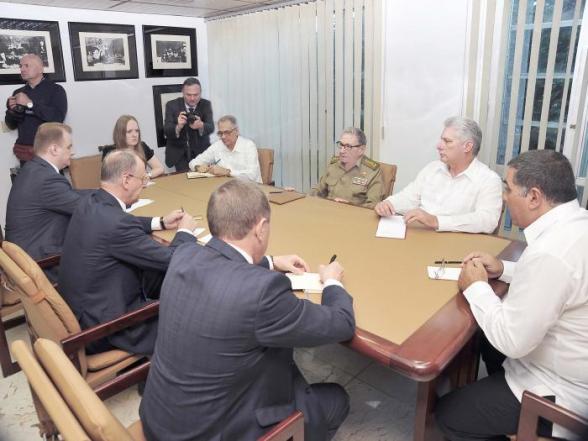 Cuban Communist Party leader Raul Castro Ruz and Miguel Diaz-Canel met Tuesday with Nicolay Petrushev, Secretary of the Russian Security Council, currently on the island on a two-day working visit.

According to the National TV newscast, during the meeting, they exchanged on the excellent state of the relations between the two nations and their perspective development.

Alexandr N. Venediktov, Deputy Secretary of the Security Council of the Russian Federation, and Ambassador Andrei A. Guskov also participated.

Earlier on Tuesday, Petrushev laid a wreath at the Memorial to Soviet Internationalist Servicemen in Havana.

Following the wreath-laying ceremony, Petrushev awarded several veterans of the Cuban Interior Ministry with honorary signs of the Russian Security Council.

Tasss newsagency reported that following the awarding ceremony, the delegation led by Petrushev went to the Cuban Interior Ministry, where he and Cuban Interior Minister Julio Cesar Gandarilla Bermejo signed a memorandum of understanding and cooperation.

According to Petrushev, this document "will help build a good base for continuing dialogue" between the two countries in the sphere of security.

The memorandum aims to expand cooperation and trust between Moscow and Havana on the issues of security. It involves a regular exchange of opinions between Russian and Cuban ministries and security bodies on the current issues of international and regional security, as well as joint analysis of potential threats.

Petrushev arrived Tuesday on a two-day working visit to Cuba. He is accompanied by Deputy Secretaries of the Security Council Alexander Venediktov and other Russian military high-ranking officials.