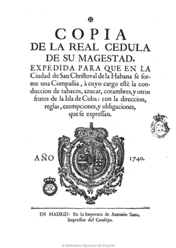 The idea of founding the Royal Trading Company of Havana was founded around 1739, being Captain General of Cuba the insatiable Juan Francisco Güemes de Horcasitas, Count of Revillagigedo.

This Spanish soldier and administrator supported the purpose of creating a trading organization that would come to control and monopolize, almost absolutely, the import and export trade of Cuba, that is, almost everything that the country sold from Spain and almost everything that the largest archipelago of the Antilles sold in the Peninsula, which contributed to the trading retardation of the country.

All this through the port of Cadiz, because since 1772 it was the port of Spain that carried out the trade with the colonies of America.

In order to do so, it was necessary to collect a large sum of money from the shareholders to cover the expenses that the Company would initially have to challenge, which was achieved with the contribution of wealthy Spanish merchants from Cadiz and some Spanish merchants and native landowners from Havana.

One of the main strongest shareholders of the Royal Company was, of course, Captain General Güemes and, although neither the King nor the Queen of Spain contributed a peseta to the company, shares of the Company were given to them in order to favor, as they did, the creation of the very lucrative business.

Thus, the Royal Company dominated all import and export trade: we are talking about the main products that Cuba currently traded, the sale of tobacco, sugar, leather, wood and other products. The Company, in turn, incorporated numerous products and merchandise into the Caribbean colony, such as flours, cloths, tiles, and many more requested by the inhabitants.

Among the obligations that the Royal Trading Company of Havana had were the construction of ships, the supply of ships of the Royal Navy of stopover in the Cuban capital and the sustainability of warships destined to pursue smuggling.